Book your party at The Slope and we'll go the extra mile to make everything perfect.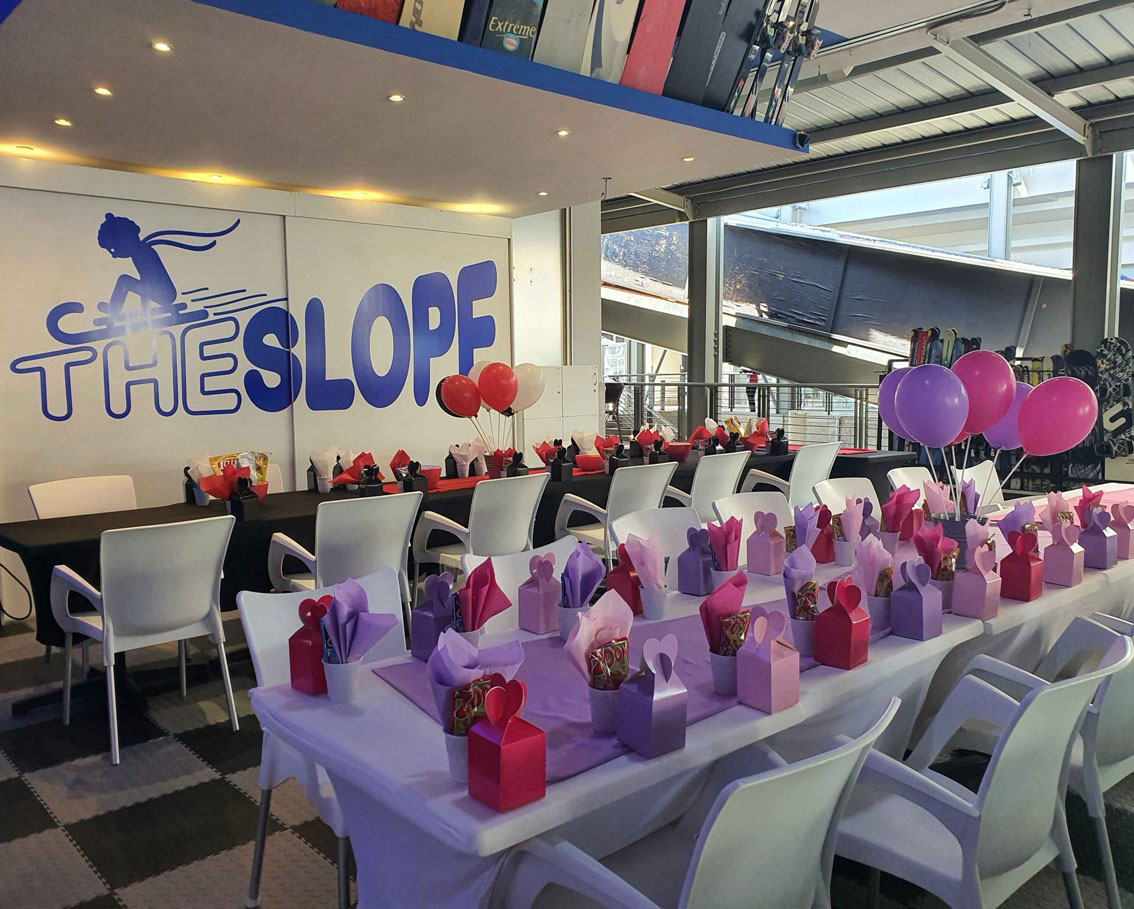 All parties include the following:
2 Hours of tubing on The Slope for each tuber
A new rope glove per tuber
Your own designated party area demarcated with que barriers.
A bouquet of 6 balloons in the centre of the table.
A decorated birthday table with a white or black table cloth and an overlay in a plain colour of your choice.
A party pack per tuber.*
Cups and colourful serviettes to brighten up the table.
(Should you wish to add gifts or not-edible additions to the party boxes please let us know so we may pre-arrange.)
Secondary tables and chairs will be set up alongside the children's main table and are all placed inside of the demarcated area for you and your guests.
*Party boxes consist of your box, a packet of Lays chips, a Kitkat or Tex bar, a fizzer, a lollipop and a juice. (Please note the contents may vary slightly.)
Halaal and Kosher Party Packs are available at a surcharge.
Party Boxes are placed on the table before your arrival. Should you prefer to hand them out at the end of your party, please let us know. For older children we can also deconstruct party boxes into bowls.
R340.00 per tuber for parties (Ages 6 and up) from 7 to 9 tubers (minimum of 7 tubers)

R330.00 per tuber for parties (Ages 6 and up) of 10 tubers or more

R435.00 per tuber for parties (Ages 5 and below) from 7 to 9 tubers (minimum of 7 tubers)*

R425.00 per tuber for parties (Ages 5 and below) of 10 tubers or more*

Parties of 20 Tubers or more include one free Slush per tuber! **
Tickets for additional party guests who arrive on the day will be space depending as we have a limited number of tickets available.
* As little people 5 years and younger are not allowed on the slope without an adult, their prices above include a ticket for one child and their parent/guardian/chosen adult. The parent/guardian/adult band is not transferable.
if you want the adults to join in… ask about our Parent Band option. It allows for all your guest to have a turn and join in the fun!
FOR THOSE LOOKING FOR SOMETHING MORE SIMPLE: Ask about our Celebration table Option.
**(Slush vouchers are only valid for the day of the celebration)
10:00 am – 12:00 pm
12:00 pm – 2:00 pm
2:00 pm – 4:00 pm
4:00 pm – 6:00 pm (Fridays and Saturdays)
6:00pm – 9:00 pm (See the Night Rider link above for prices. 25 tubes available. A minimum of 15 tubes required.)
Winter times may begin at 17h30.
The only item you need to bring is your birthday cake, cake condiments and if you have a theme, any (non-edible) table decor.
No confetti or luminous paint please.
Optional Add-On's for your party
Tasty and generous platters from our Platter menu. (Serving between 10 – 12 guests) Halaal & Kosher platters available on request.
Pizzas to share from our pizza menu or anything you wish for off of our Diner Styled Menu.
Eskimo Joe Slush for everyone. 4 Flavours to choose from or mix them all! (Eskimo Joe Slush is Halaal & Kosher)
Soft Serve and ice cream fridge.
A selection of table sweets from our Table Treats menu. (A selection of Chocolates, Chips, Popcorns, pops, and sweets.)
E&OE applies to all attachments.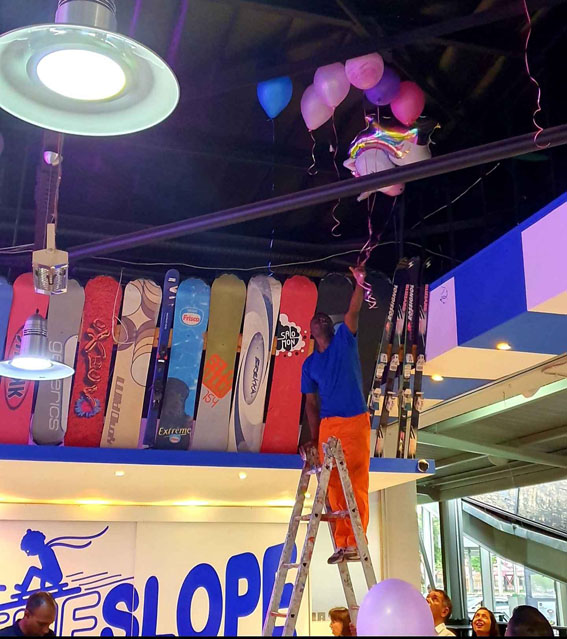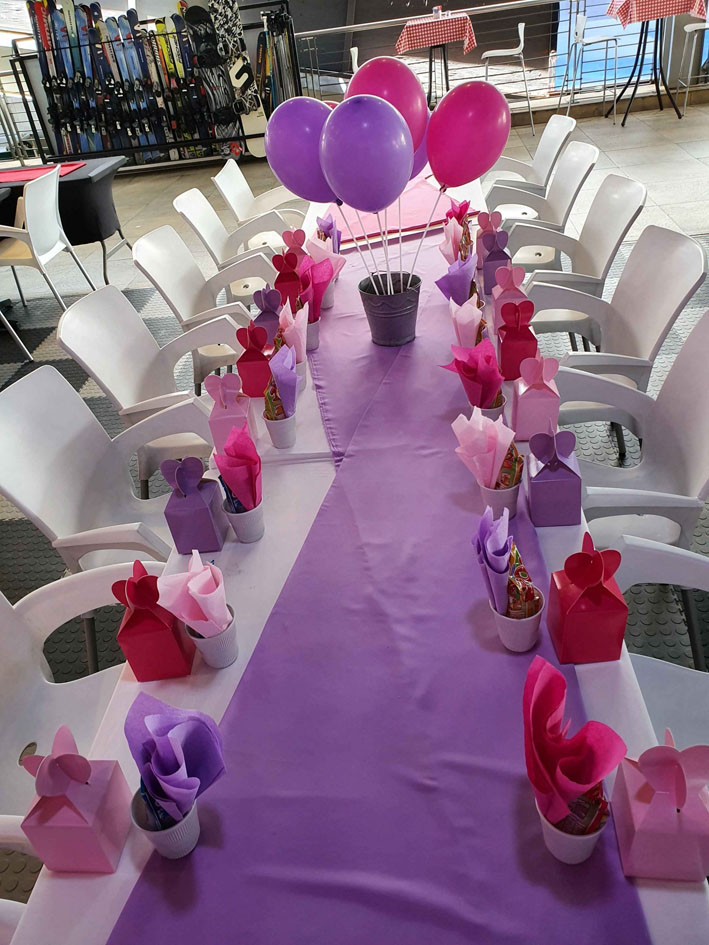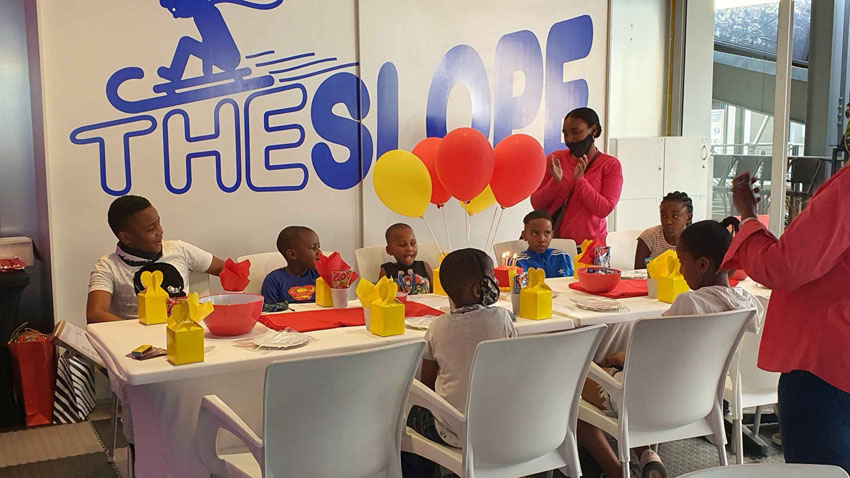 Shop 1, Mezzanine Level, (You can't miss the 20m high Slope!)
Cedar Square Shopping Center, Cedar Rd, Fourways, Gauteng